Key aspects to get most out of performance monitoring
Test setup by a team of professionals
Our team will help you design test scenarios, that closely resemble real interaction between users and your web app.

After the scenarios have been approved, our team will implement the scripts necessary to automate these tests, as well as configure virtual users that would execute them.
Daily performance reports and analytics
Receive reports of current performance benchmarks and compare against historical data every day.

With the tests scheduled to run every day, you won't miss the moment when performance degrades and you need to focus on performance improvements.
Integration in existing CI systems
To make sure that you don't miss a performance change, the tests can be integrated in virtually any CI/CD pipeline, which will run the tests regularly and notify you about the results.

You can run the tests as a daily scheduled job or every time a deployment happens, your choice!
What's included in the package
Tests designed specifically for you
The initial phase of setting up performance test monitoring is all about creating the best tests that fit your needs.
An experienced engineer will be assigned to you, who will help you choose the best scenarios, as well as write all the UI automation scripts needed.
Once that's done, the tests will be set up in Loadero along with all the necessary assertions - these will alert you as soon as performance degradations have occurred.
Finally, CI and notifications integration will be set up so the tests are executed on a daily basis and reporting is set up.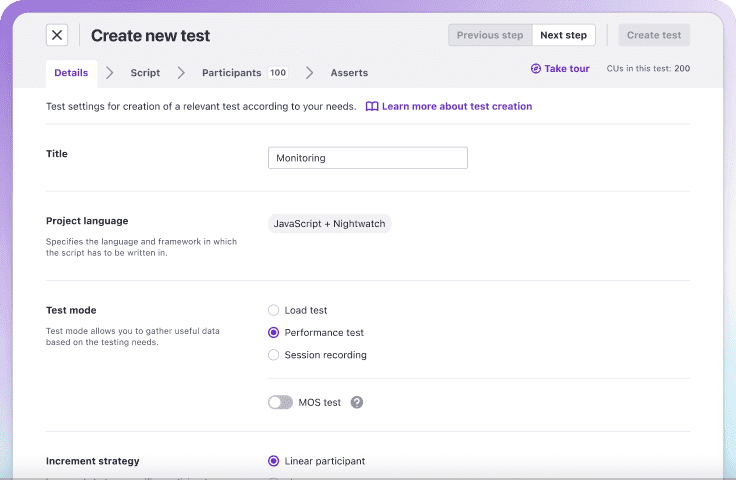 Receive daily test reports
The tests will be executed daily so that you get immediate notifications about any failure.
Each of the test cases will include 100 participants (virtual users), who will be configured with 2GB RAM + 1 CPU core, generating load on your system and retrieving performance metrics.
As the tests run, Loadero will take care of performance monitoring by measuring CPU usage, RAM usage as well as taking measurements of how long specific actions take to execute, so that you are aware if there is any degradation.
The tests will be launched via your existing CI system and test reports can be sent to the system of your choice - be it Slack, email or anything else.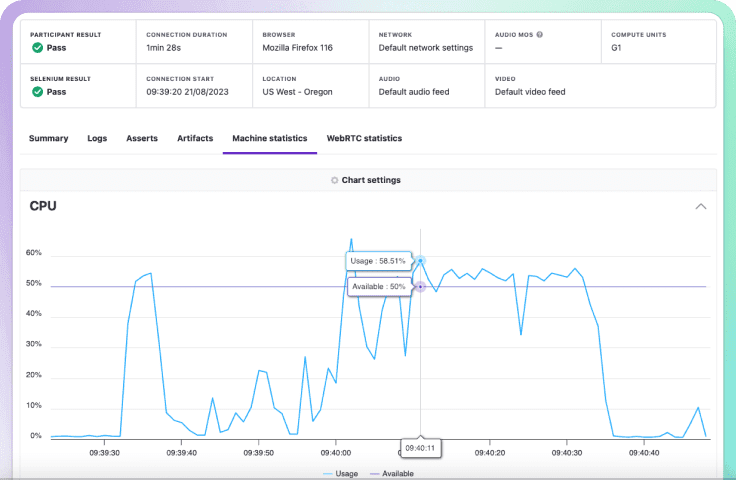 Our packages
Choose the package that suits you best and set up performance test monitoring right away! You can change to another package whenever you feel like extending your test coverage.
Each package includes
100 participants per test

G2

compute unit

for

each

participant

15 minute max test duration
Daily test execution
---
Initial test setup at an additional cost
---
Prices are shown excluding VAT. Additional taxes may apply.